History of Ponchatoula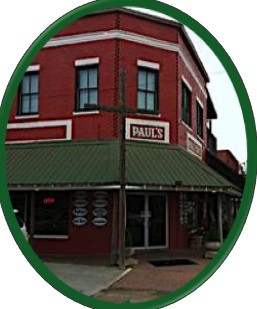 The Story of the Cross at Paul's Cafe
Around the year of 2005, a private citizen donated a large wooden Cross to the city of Ponchatoula which was placed across the street from Paul's Café near the old train locomotive. The Cross stood as a testimony to Ponchatoula's predominately Christian community until the year of 2009 when someone complained to the ACLU that a Cross stood on public property. ACLU contacted the mayor about it; the city had no choice but to remove the Cross from public property. The Methodist Church offered to take the Cross and place it on their property just one block East of Paul's Café, where it still stands.
Paul Pevey, owner of Paul's Café, wanted to do something in response and decided that a Cross placed on his private property of Paul's Café would be legal; ACLU could not prevent that. Many of his customers were excited about his idea and one even volunteered to make it for him. The Paul's Café Cross drew much positive attention, especially during the Christmas season when Paul hung a sign which read, "Merry Christmas Everyone, even the ACLU." The Cross and the sign got the attention of the local newspapers and even a New Orleans television news team who did a television news report about it.
It didn't take long for the enthusiasm to grow; Crosses began to pop up on countless buildings around Ponchatoula, both on businesses and homes. As you drive or walk through our beautiful city, see how many you can spot. In a time when many of our religious freedoms are in jeopardy, it's refreshing to see that Ponchatoula citizens take pride in their Christian values.
Downtown Ponchatoula
is sometimes referred to as the "Mayberry of the Deep South" because of the people's kindness & friendliness, the town's quaintness, & a step back from the negative concepts associated with many large cities. We see Ponchatoula as a place with "small town values," yet "big business opportunities."
In 2011, Ponchatoula celebrated its 150th birthday. To commemorate the event, a local artist, Rebecca Willoughby, designed a Fleur de Lis which depicts many of Ponchatoula's famous characteristics. The Pevey family was extremely humbled and honored to have Paul's Café with it's Cross right in the center of the artwork. You can view a canvas print of this work (which was retouched by the artist) here at Paul's Café. Below is an explanation of what is represented in her work.
• At the top of the fleur de lis is the bell tower of the old St. Joseph Church, built in 1927.
• Directly underneath is the main building from the former Ponchatoula High School (now the Jr. High).
• The American flag boasts not only of our great nation, but also that in 1985 Ponchatoula flew the world's largest pole-flying American flag. The flag was sewn by four of "Ponchatoula's Betsy Rosses," one of which is Paul's mother-in-law. The city still has an annual 4th of July flag-raising ceremony, and on special flag days throughout the year, you can see our largest flag flying proudly.
• The Ponchatoula Feed and Seed Store was established in 1941 by Mr. Joe Ebrecht who offered invaluable aid to our farming industry until his death in 2001. His family still runs the Feed and Seed today.
• Paul's Café was established in 1976 by Paul Pevey. He and his wife, Angela, have eight daughters, all of whom have worked at the café during their high school and college years. Four of them still work here, and two have expressed interest in keeping it a family run business throughout their lives.
• The Green Wave is Ponchatoula High School's mascot.
• The railroad was our city's vital link to the rest of the country during our early timber industry years and also vital in shipping strawberries.
• At one time Ponchatoula was considered the Strawberry Capital of the World because we harvested more strawberries than any other city. Even though we've lost much of our strawberry farms, we still like to boast of being the Strawberry Capital. Ponchatoula has done a wonderful job of preserving this heritage. Next to City Hall, only 1-1/2 blocks from Paul's Café, you can view a beautiful tribute to all of the strawberry farmers from this area on several glass panels surrounded by water fountains.
Ponchatoula also is very proud of the fact that we host Louisiana's largest festival, the Strawberry Festival each April. It is the only festival in our state that can claim that all of the vendors on the festival grounds are local non-profit organizations. While a dedicated board of volunteers plan for this festival year round, it truly has a huge percentage of our citizens that come out each year to work to ensure it's success.
• Since the alligator is a common animal found in our Louisiana waters, Ponchatoula has adopted one as our town pet. You can see Old Hardhide in his cage right next to Paul's Café. If he's not visible when you stop by, then he's probably resting in his little corner house. In this case, we hope you'd come back to see him another time.